Press and Awards
See why people love working with our talented sourcers and recruiters.
All About Our Co-Founder: Chris Murdock
Co-Founder & Chief Sourcing Officer at IQTalent
Chris Murdock is a recruiting and talent acquisition veteran. He founded IQTalent in 2009 and now leads search execution and client relationships for his 300+ person firm. Before establishing IQTalent as a talent acquisition leader, Murdock worked with Yahoo!'s internal executive recruiting team, gaining in-depth experience across the technology recruiting sphere.
Founded in 2009 and merged with Caldwell in 2020, IQTalent was established with the mission to offer a better way for organizations and candidates to find a match. Through an on-demand business model, IQTalent acts as an extension of a client's internal team. A Co-Founder of IQTalent, Chris Murdock continues to lead research and sourcing for the firm while working to deepen client relationships.
Chris Murdock is a highly sought-after speaker and presenter available to the media as an expert source on workforce planning, corporate culture, candidate research, talent acquisition, and recruiting.
IQTalent: Hot Off The Press

IQTalent, a technology-driven talent acquisition firm, and wholly owned subsidiary of Caldwell Partners (TSX:CWL; OTCQX:CWLPF) today announced the addition of Jenny Zhao as the firm's first Vice President of Product.

The Tennessean announced its annual list of Top Workplaces and ranked IQTalent, an on-demand talent acquisition and recruitment technology firm, second among all middle Tennessee workplaces in the mid-size (125-399 employees) category.

This List ranks Nashville-area recruiting firms by number of retained permanent placements. Information was obtained from firm representatives. Information on The List was supplied by individual companies through questionnaires and could not be independently verified by the Nashville Business Journal.
IQTalent Community Initiatives
Community service and outreach is important to everyone at IQTalent.
At IQTalent, we believe in investing back into the community around us. We take pride in our hometown city and work hard to support those in need through a variety of initiatives. Some of our most prominent community efforts include:
We donate our 16th-floor office space, overlooking downtown Nashville, at no charge to local non-profit organizations for fundraisers, awards, dinners, meetings, and more.

We give a quarterly corporate donation to local non-profits, decided on by our employees.

We serve as a proud Corporate Partner for "Tennessee Kids Belong."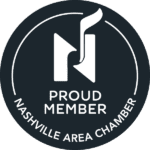 Causes Close to Our Hearts
See what causes are near and dear to us at IQTalent.
IQTalent Awards And Recognitions
Need More Information?
Reach out to our team to see how IQTalent can help support your organization.
Writing About IQTalent?
We've got you covered with the latest information and resources IQTalent has to offer.
Download our media kit for access to IQTalent news, press releases, branding guidelines, company background, contact information, and more.