When IQTalent supports your hiring needs, your recruitment team will instantly shed stress and gain time!
Sourcing is the cornerstone of a hiring strategy and paired with your internal team, we can take sourcing off their plates, letting them do what they do best, sell candidates on your amazing company.
Leverage your in-house candidate sourcing team when you
need to scale, fast.
Ensure your internal recruiters have an always fresh pipeline of talent.
Gain access to exclusive recruiting technology.
Create a sourcing presence in a new industry or location.
Assist with seasonal hiring issues before they come up.
Build your own in-house sourcing team from the ground up.
Collaboration
Our two teams working seamlessly side-by-side.
Calibration
We align by deciding exactly what the ideal candidate looks like.
Candidates
Apply our framework to the pool of candidates we've sourced.
Culture
Finally, we select the candidate who meets the need and fits the culture.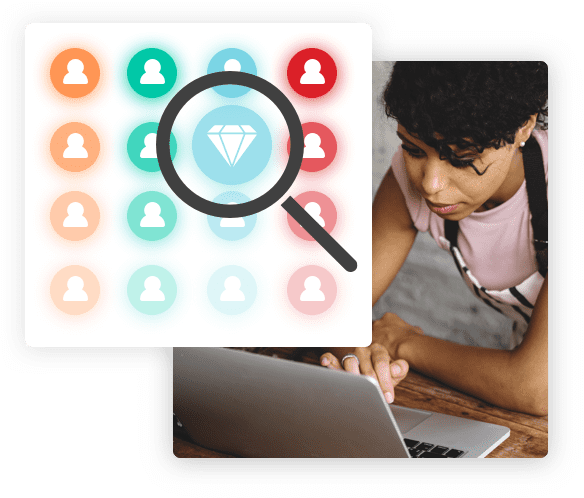 Find the Diamond in the Rough
Our method to candidate sourcing follows the Diamond Recruiting Process.
Instead of carat, cut, clarity and color, we use Collaboration, Calibration, Candidates, and Culture. Initially imagined by our founder Chris Murdock, the Diamond Recruiting Process is our guiding light and part of our secret sauce here at IQTalent.
Our Data is Your Data
Unlike traditional search firms, we share all the candidate data with you.
We offer full transparency throughout the candidate sourcing process, giving our clients full access to their search data. Leverage IQTalent for an expert outlook on your talent pipeline.
Candidate sourcing is the use of one or more strategies to attract or identify candidates for a specific open position.
Sourcing includes the process of finding suitable candidates for roles, while full cycle recruiting reflects the reviewing of candidates' qualifications through phone screens, interviews, and on-site interviews. The process concludes with compensation negotiation and an offer.